Bathroom
A bathroom is associated with good feelings, providing a sense of health and refreshment. It is the place in the home that has come to symbolize Japanese culture.
While its size is limited, by combining stone or tile, lighting, shower fittings, mirrors, etc. a variety of effects are possible. Through a fusion of carefully arranged materials and the soft, shimmering light off the bath, our bathrooms are places of joy and happiness where the mind and body can find healing and renewal.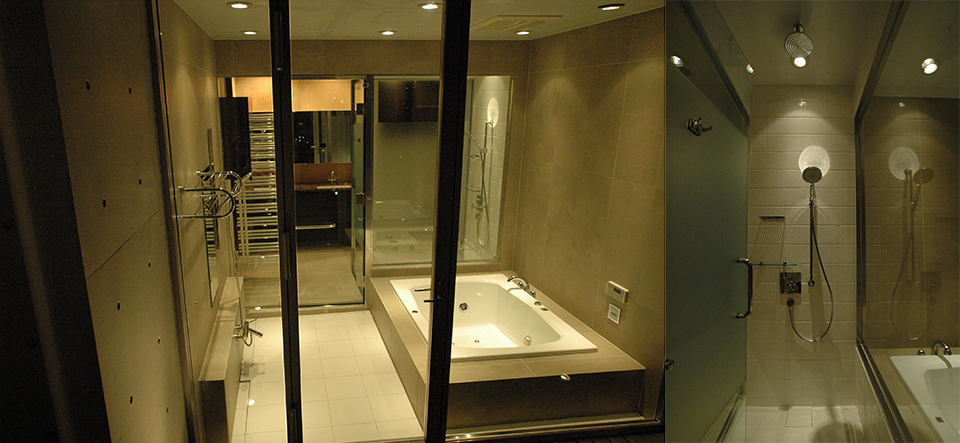 In this central Tokyo apartment, we joined a high spec bathroom with the balcony. To fulfill the client's vision, we used a range of carefully selected materials from around the world. The use of large tiles, inspired by a sense of the earth's grandeur, helped in controlling and diffusing the light, creating a space where one can feel at ease in nature. One can relax while enjoying the night view, experience the subtle fragrances drifting on the wind while sunbathing, or be entranced by the star studded night sky. This special bathroom has replaced the living room as the family's favourite place to relax.
A shower is also squeezed into this space, the exhilaration of the downpour from its rainshower shower head washing away the day's stress.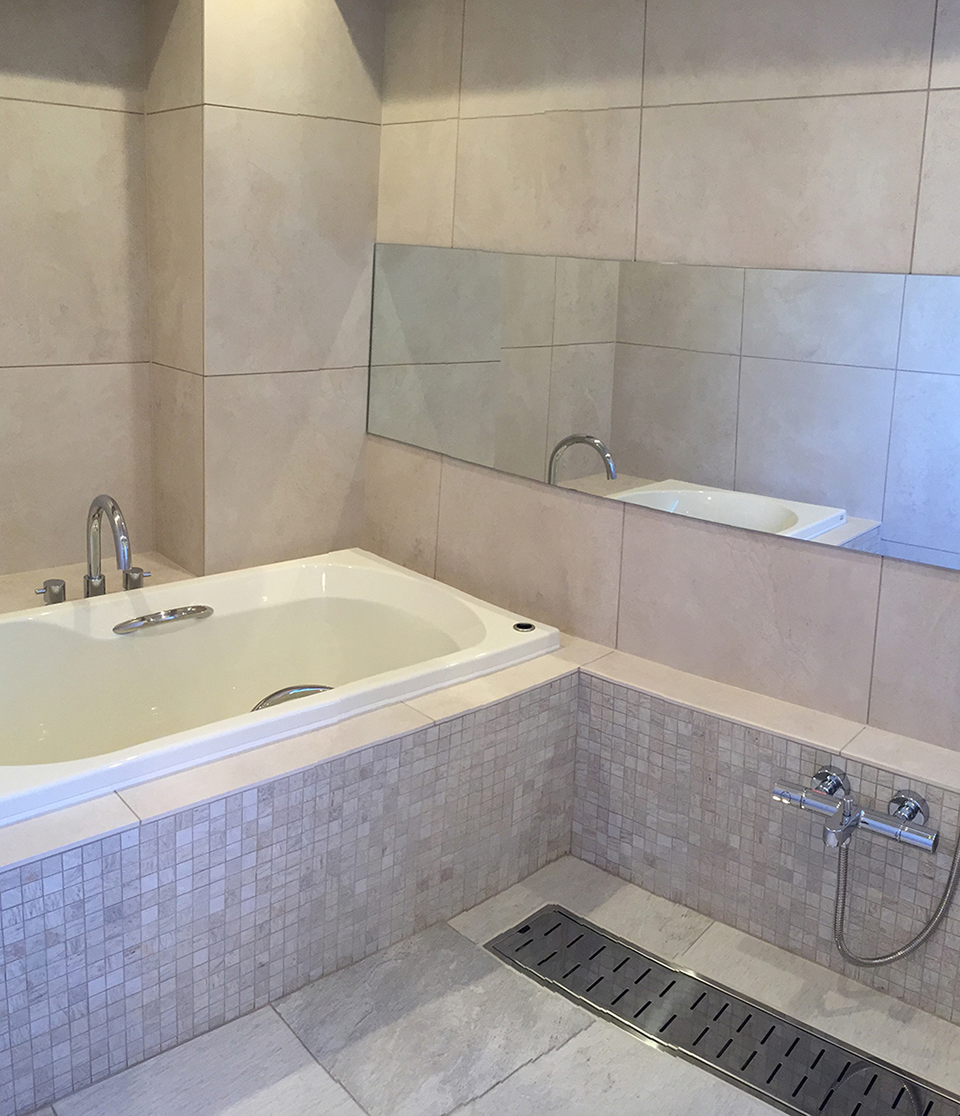 In renovating this bathroom in a 35 year old building, the influence of the original builder heavily impacts this bathroom both in its finishes and the use of durable materials. While its beauty and design is immediately apparent, unseen is the experience, skill and knowledge that went into generating this uncompromising design. One can only applaud such outstanding workmanship.
With its comfortable head rest, jets and blowers, this design gently wraps around one's body. The day's hustle and bustle is forgotten as one immerses oneself in the relaxing comfort of this bath tub.
before after
〈before〉Renovating the bathroom hadn't seemed like a necessity even though it had minimal lighting and the dullness of the tiles left the space feeling dark and cramped.
〈after〉Arranging large tiles horizontally along the wall produces an enlarged sense of depth. In addition, the simplicity and orientation of the tiles' pattern contribute to the sense of depth. This beautiful and elegant bathroom allows the user that sublime moment of happiness. The prominent placement of the mirrors, in particular, was considered in detail as they were the key to creating a sense of brightness. This flow of light brings a sense of warmth and cleanliness creating a superb space.
Additionally, the existing shower taps were placed too low so we raised them. By removing the taps on the bathtub it was possible to install a larger bathtub and without the taps the bathtub became easier to clean. The new floor tiles have fewer joints and this also made a contribution to the ease of maintenance of the bathroom. Not only did the appearance of the bathroom improve but we were able to improve its functionality and comfort.