Kitchen
Not only is the kitchen a place where food is prepared, but also a setting for individual aspirations. People have their favourite spices and cooking utensils. They have their own ideas of where to put things and how to arrange the kitchen. As a result each kitchen's shape and work flow, as well as the choice of materials and cooking equipment, are of necessity different. Both functionality and presentation, how it sets the scene, need to be considered. Its design should harmonise with the living room. The kitchen bins should be beautiful. As time goes by, there may be need for change but the coziness of the kitchen should not change. New Plan Building makes all this possible.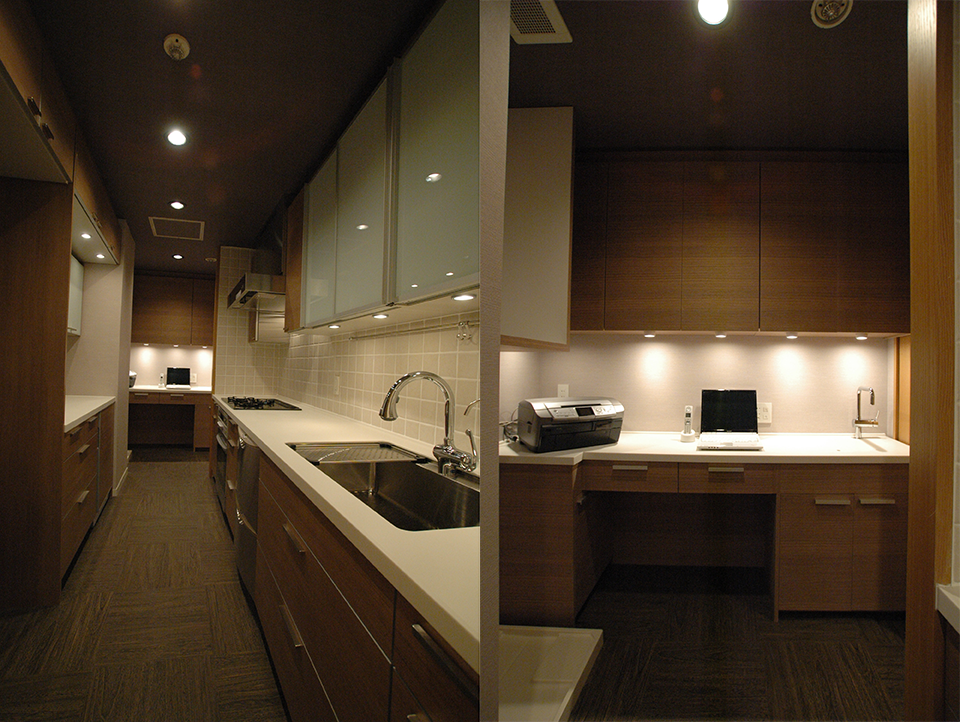 With the wide range of name brand kitchens available, people need a clear vision of their ideal kitchen. Here is one kitchen solution from "kitchenhouse", a Japanese crafted custom-built kitchen. New Plan Building arranged for the purpose built utility counter at the back to be made and installed to match the existing "kitchenhouse" kitchen.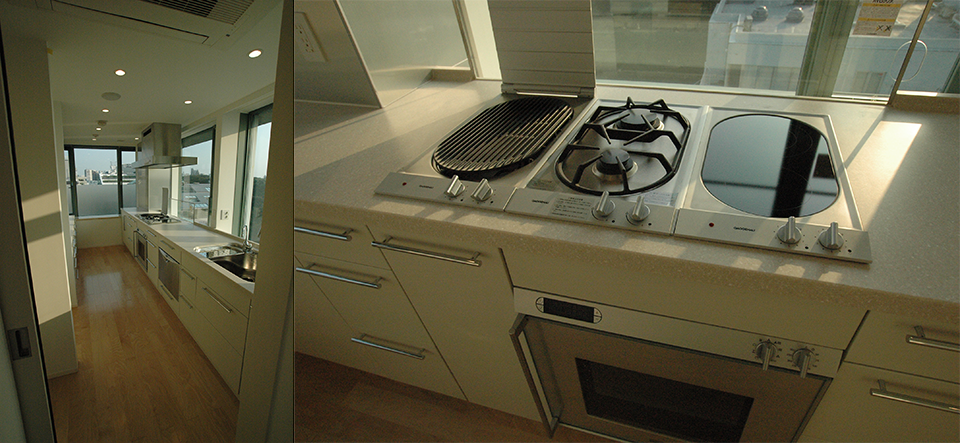 This kitchen was prominently arranged around the window, the best of location in the house. At New Plan Building we didn't just look at its design and function, but precisely because of our knowledge and experience, we were able to choose appropriate appliances as well, in this instance Gaggenau appliances from Germany.
At New Plan Building we design our custom-built kitchens millimeter-perfect. Using smaller dimensions allows for more control of the project. By storing the kitchen waste in a functional but beautiful container, we have built the kitchen to be beautiful from any angle.
To create this one of a kind kitchen, a custom made approach was necessary bringing together the countless ideas packed into the client's ideal kitchen. It is the heart of the house functioning as the family's communication center. I wonder what's for dinner?
"Open Kitchen" and "Island Kitchen" are two words that have become firmly established in the contemporary home repertoire. To create the effect of preparing dinner in the living room it is critical to know what to reveal and what to hide. This client didn't want a kitchen that was "too open and unsettled" so we created a kitchen that wraps around the space as if protecting it in order to create a sense of security. In setting the counter height, sightlines and distance to the living room were considered. It has become a kitchen where a sense of seclusion co-exists with a sense of freedom and openness.