Property Management
"What shall I do about taxes and utilities?" "I'm going to be away for awhile so I'm worried about my house." "What if an important letter comes?" Our "Property Management Service" is designed primarily for foreign owners or owners who live overseas for long periods of time. Once you have purchased your property or if you want to ease the stress of managing your own property while you're away, we are here to watch over your property for you. Also, if you let us know your schedule for visiting Japan we can arrange bed-making, house cleaning, clothes cleaning, etc. to make your visit as pleasant as possible. We'll do our best to assist you so that you can have a comfortable visit while here.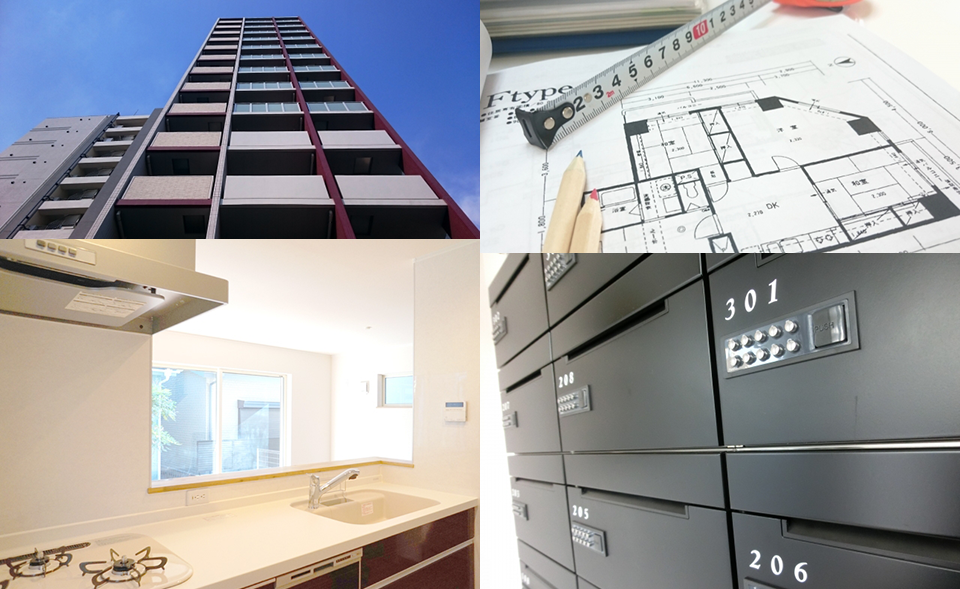 Our "property management service" allows the owner of an apartment who is absent to have someone periodically check on it. Property ownership of necessity comes with the responsibility to maintain the property in good order. Without that not only will the property's livability be affected but its value will decrease and it will generate problems with neighbouring properties.
Particularly in the rainy season and the typhoon season, as well as during the heat of summer, if neglected the property can deteriorate and its value will, little by little, depreciate. If the rooms aren't aired out from time to time mold will grow, damaging the property. If the drains don't periodically have water run through them a bad odour develops and one can get an invasion of rats or insects. With regular room inspections, leakages or malfunctions can be detected early; a solution can be found and damage to the property avoided. An inspection would also allow one to respond to the effects of an earthquake or other natural disaster or to deal with an emergency situation should it arise.
In addition to preparing the report, we can forward your tax notices and other important mail to you, through a proprietary management company inspect your fire alarms, and arrange for a high pressure wash of the drains. As building professionals, New Plan Building Co., Ltd. can act as agent for the owner in all matters relating to the property.
Basic Plan
Payment service
Utilities (electricity, gas, water, internet, security)
Building maintenance expenses (apartment management fee, maintenance fee, association fee, etc.)
Insurance
Monthly report
Account statement
Repair work history
Administration of tax payments
Real Estate Acquisition Tax
Property Tax (We have a plan for acting solely as your tax agent as well.)
Correspondence with CPA and tax accountants.
Property Management and Inspection Service
Regular inspection and report-check for anything out of the usual. (available in emergencies or after earthquakes as well)
Basic cleaning and ventilation-while the room is empty provide simple cleaning and let fresh air into the rooms.
Preventative water discharge-run the water periodically to prevent smells, harmful insects, and rats from coming through the waste pipes into the kitchen and bath room.
Mail collection-pick up mail and statements.
Arrangement, monitoring and reception-arrange and monitor interior and exterior third party construction as well as being on hand to receive any ordered items.
Pictorial Record-take pictures of the property's current condition.
Additional Services
Opening a Bank Account-open an account in Japan to manage payments for your property (Sumitomo Mitsui Bank, Mizuho Bank).
Making a Seal-for contracts and other official documents a personal seal is a necessity.
Renovation-plan and oversee property renovation.
Interior Decoration-coordinate and assist in the purchase of furniture, curtains and other household goods.
Appliances-assist in choosing and buying appliances
Living assistance-translate user manuals, provide English labels for control panels and remote controls, provide assistance with WIFI rental, etc.
House Cleaning-provide periodic and/or one off house cleaning, bed linen cleaning and bed making services.
For more details and fees feel free to contact us.

Please click here for a more detailed description of our Property Management Service. (pdf)